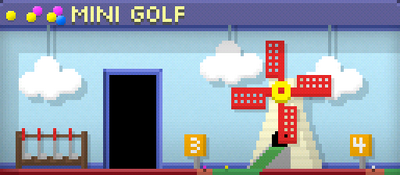 Mini Golf
Edit
The Mini Golf is is an overly colorful indoor mini golf course. The featured hole is of course, the windmill, standing nearly to the ceiling of the floor. A sky blue backdrop and fake hanging clouds complete the look. A small rack of clubs sits near the door, and a few colorful golf balls lie in progress on the floor of the course.
To unlock the Subpar achievement, fully stock the Mini Golf and the Sub Shop.
The Mini Golf's stock includes: 1 Player Round, 2 Player Round and 3 Player Round.
Item
Quantity
Stocking Price
Stocking Time
Min. Profit
Max. Profit
Level 1
1 Player Round
450
270 coins
30M
180 coins
703 coins
2 Player Round
900
540 coins
1H
1,260 coins
3,206 coins
3 Player Round
1,800
1,080 coins
2H
4,320 coins
10,012 coins
Level 2
1 Player Round
525
315 coins
35M
210 coins
820 coins
2 Player Round
975
585 coins
1H 5M
1,365 coins
3,473 coins
3 Player Round
1,875
1,125 coins
2H 5M
4,500 coins
10,429 coins
Level 3
1 Player Round
600
360 coins
40M
240 coins
937 coins
2 Player Round
1,050
630 coins
1H 10M
1,470 coins
3,740 coins
3 Player Round
1,950
1,170 coins
2H 10M
4,680 coins
10,846 coins
Bitizens with this Dream Job
Edit
Further information: List of All Bitizens
Bernard Butler
D. Bennett
Gregory Boyd
Heather Howard
L. Fleming
L. Gibson
Marc Frazier